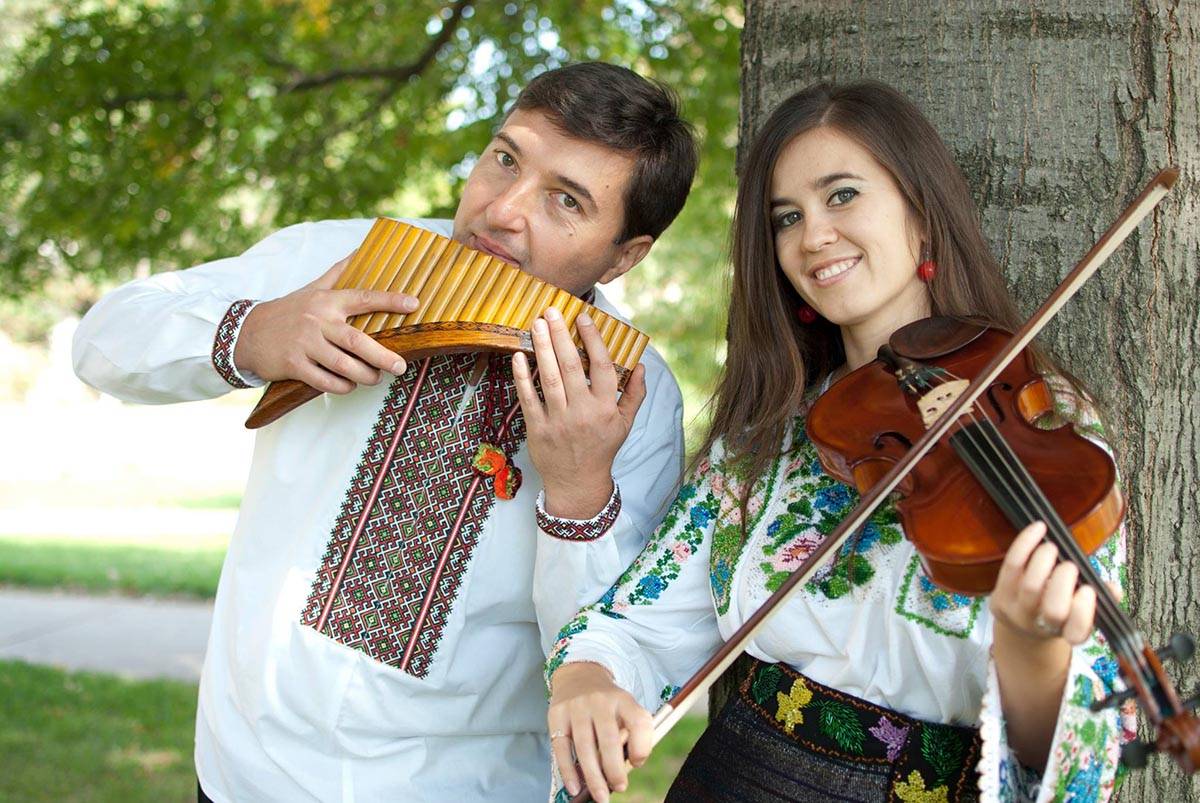 Gerdan: A Night of Ukrainian Music
Join us Saturday April 15 at 7pm in Kinnison Hall for a night of Ukrainian music performed by the founding members of Gerdan: Solomia Gorokhivska and Andrei Pidkivka, and joined by Sheridan College Director of Strings and Orchestra Studies Dr. Mark Elliot Bergman
Also, please join us on Friday, April 14 for a workshop with the performers at Sheridan College at 1pm. Location and details TBA.
Free and Open to the Public
This concert aims to bring more awareness to the plight of Ukrainians during this difficult time and celebrate their music and culture.
Ukrainian born musician Solomia Gorokhivska is a recognized performer, recording artist, and outstanding music educator in the DC area. She holds a Doctor of Musical Arts degree from the Catholic University of America in Washington DC and Master of Music from the National Music Academy in Ukraine. She also holds Bachelor's and Master's Degrees in Culture Studies from the National University of Kyiv-Mohyla Academy in Ukraine. Solomia Gorokhivska frequently performs in the USA and internationally including Canada, Ukraine, Germany, Poland, Serbia, and China. She has been featured as a performer and an anchor in several Radio and TV broadcasts in both Ukraine and the USA and has played with various orchestras in Europe and the United States. Dr. Gorokhivska regularly performs with the National Philharmonic, Washington Choral Society Orchestra, Alexandria Symphony, Washington Concert Opera, American Festival Pops Orchestra, Manhattan Symphonie, and the International Chamber Orchestra. Her recent appearances include the Kennedy Center for the Performing Arts, Maryland Hall, Library of Congress, the George Mason Center for the Arts, the Department of State, the Clarice Smith Performing Arts Center, Salisbury University, Georgetown University, the Embassy of Ukraine, Czech Republic, Slovakia, and Russia, World Bank, IMF and multiple K-12 public and private schools in the Washington Metropolitan area. Solomia Gorokhivska performs as a collaborative artist both locally and nationally. She established DC Music Academy and brings the wealth of her experience to a generation of music learners.
Grammy winner Andrei Pidkivka is a prominent teacher, performer, and maker of a variety of folk flutes of his native Ukraine. Their sounds attracted listeners across the United States, Europe, Asia and South America. His world flutes have found their way into numerous instrumental works, modern symphonic compositions, theatrical performances, ballet, and movie scores. Andrei Pidkivka has performed as a soloist and a guest musician with numerous symphony orchestras in Europe, Asia and the U.S. Performances include the Columbus Symphony, Phoenix Symphony, Seattle Symphony, Oregon Symphony, Baltimore Symphony, and Pittsburgh Symphony. Past performances include soundtracks for Broadway shows, Disney films, "The Lord of The Rings," and "Medieval Times." In 2020 he won a Grammy award as a producer for "Best Soundtrack" for the HBO series "Chornobyl". In addition, in 2020 Dr. Andrei Pidkivka was the recipient of a Heritage Award from MD State Arts Council. He holds a Doctorate of Music Arts from Michigan State University. He is in high demand both as a maker of folk instruments and as a touring and recording artist.