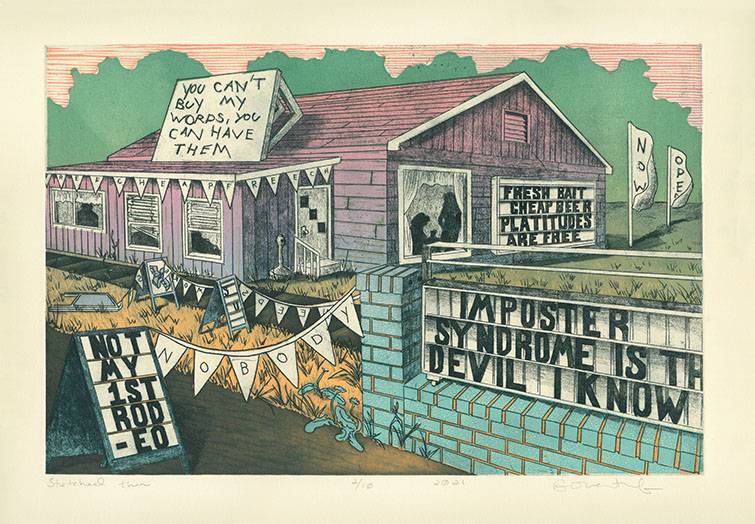 Artist | Edie Overturf, Waddell Printmaker of the Year
Banging One's Head Against the Wall: is what they mean by "self care"
Join us Thursday, Feb. 23 at 4pm for an artist talk and opening reception at the Whitney Center for the Arts.
Exhibit will be on display until March 29.
Edie Overturf lives in Portland, Oregon, and teaches printmaking, drawing and Visual Storytelling at Mount Hood Community College. She is represented by Zinc Contemporary gallery in Seattle, and her artist books are represented by Passages Bookshop in Portland. Overturf is a recipient of numerous awards and grants, including a Jerome Emerging Artist Fellowship, two Minnesota State Arts Board grants, the Larry Sommers Fellowship from Seattle Print Arts, and the Waddell Printmaker of the Year 2023 award from Whitney Center for the Arts. She has attended several residencies, including those at Kala Art Institute, InCahoots Residency, Minnesota Center for Book Arts, and a Professional Development residency at the Center for Contemporary Printmaking in Connecticut.
Artist Statement: The image and text relationships in my work reflect doom spirals that can incite empathy and connection through discontent. These spirals are fueled by frustrations about uncertainty, inequity and deeply rooted political and social problems that feel too big for one person, despite best efforts. The forms I choose to deliver the satirical text are often meant for advertising or celebration. Though most of my work is fueled by my personal reactions, I know that they are not unique and can be felt by a large percentage of my audience. The audience is on my mind as I place them in the narratives I create. The current state of our world makes some of the most steadfast elements in our lives in flux. As we witness what remains from the past and what that means for our futures, we could wonder if it is possible to save what we find precious or worthwhile. Or if our endowment will overshadow any growth we seek.
In my work, there is comfort in the remnants of a more analogue age; the marquee, an ancient mode of advertising, and pennant flags that could be used anywhere from car dealerships to a baby shower. Both holding fewer characters of expression than a tweet. This abbreviation of opinions can mirror the abrupt and meme-like way we currently communicate to add a sense of brevity.
I am and will always be in love with the form of the multiple and its equitable access. The history of printmaking is deeply egalitarian, and this appeals to my many socialist ideals. My work being of both a political and personal nature is carried through the vehicle of the multiple, and echoes the long and rich history of political prints.
Free and open to the public.