Summer Jazz Workshop
The Sheridan College Music Department announces the second annual summer jazz workshop, JAZZ IN THE BIGHORNS! Come to Sheridan College's beautiful Whitney Center for the Arts for combo and big band rehearsals, private lessons, theory classes, jazz pedagogy and literature sessions, and outdoor activities. SC Jazz Camp students will open the evening concert for the Whitney Center Jazz Orchestra, Sheridan College's professional big band-in-residence! We invite you to perform Jazz on a Summer Night. Download the camp overview and schedule to learn more.
Space Limited! Registration Deadline July 31, 2018.

Additional Information:
(Deadline to Register July 31st)
Only parents are allowed to register their children.
Payment due at the time of registration.
Parents will provide medical information regarding their children at the time of registration.
All waivers will be signed at the time of registration.
Confirmation emails may take up to 30 minutes to arrive.
Cancellation/Refund Policy:  Sheridan College accepts checks and all major credit cards. Notification of cancellations received by Sheridan College by Friday, July 20, 2018 will be refunded, less a 25% administrative fee. Cancellation after July 20, 2018 and/or No-shows will not receive a refund.
If you have any questions, please call us at 307-675-0600
Sheridan College JAZZ IN THE BIGHORNS 2018 Faculty
MIKE TOMARO
(Saxophones, Ensembles, Composition/Arranging)
www.miketomaro.com
Mike Tomaro has been the Director of the Jazz Studies Program at the Mary Pappert School of Music at Duquesne University in Pittsburgh, PA since 1997. Prior to his appointment at Duquesne, he served as a member of the Army Blues Jazz Ensemble, a unit of the prestigious "Pershing's Own" U.S. Army Band serving as Enlisted Musical Director and featured Composer-Arranger. As a performer, Mike has worked with such diverse artists and groups as Rosemary Clooney, Ray Charles, Michael Feinstein, Linda Ronstadt, Wayne Bergeron, Terence Blanchard, Louis Bellson, Terry Gibbs, Dizzy Gillespie Tribute Big Band, Woody Herman Orchestra and the Smithsonian Jazz Masterworks Orchestra. Over two hundred of his compositions and arrangements have been published by Doug Beach Music, Hal Leonard Publications, and Walrus Music. Mike has four nationally released recordings under his own name that showcase his talents as both performer and composer/arranger  – "Dancing Eyes" (Seabreeze Jazz), "Home Again" (Positive Music), "Forgotten Dreams" (Seabreeze Jazz) and "Nightowl Suite" (Seabreeze Jazz).
BOB KRUEGER
(Trumpet, Ensembles, Jazz Pedagogy)
Bob Krueger teaches 5th grade band at various Lincoln Public School elementary schools, and directs Jazz Ensembles I and II and the jazz combo at Lincoln Southeast High School. Under his leadership the Southeast Jazz Ensemble I has received both regional and national acclaim, including being selected to perform in New York City as one of 20 national finalists in the Jazz at Lincoln Center's Essentially Ellington Competition.  The band has also been selected as the outstanding high school ensemble at the University of Kansas Jazz Festival every year they have attended the festival. The band counts among its alumni guitarist James Valentine of the multi-Grammy award-winning group Maroon 5. He has served as a clinician and adjudicator at competitions, festivals, and music camps in Iowa, Kansas, Missouri, South Dakota, Colorado, Oklahoma, Wyoming, and Nebraska.
ED BREAZEALE
(Drum Set, Ensembles)
Ed Breazeale is the Visiting Assistant Professor of percussion at the University of Wyoming.  There he teaches applied percussion, percussion ensemble, jazz ensemble, jazz improvisation, and percussion methods.  Mr. Breazeale holds a Masters degree in Jazz Performance and Pedagogy from the University of Colorado-Boulder as well as a Bachelor of Music Performance from the University of Cincinnati College-Conservatory of Music.
ERIK OLSON
(Piano, Ensembles)
Sheridan College Jazz Faculty
Erik Olson is a pianist, organist, and saxophonist based in Billings, MT. He began playing music at an early age and had his first professional engagements when he was in the eighth grade. Mr. Olson has shared the stage with renowned artists such as Stefan Harris, Steve Turre, Nick Mancini, the Glenn Miller Orchestra and Kansas. He actively performs in the northwest region, adjudicates music festivals in the area, and maintains a private studio in Billings where he teaches all ages and levels of piano, saxophone, and bassoon.
PARKER BROWN
(Bass, Guitar, Ensembles)
Sheridan College Jazz Faculty
Specializing in double bass, electric bass and guitar, Parker Brown is a private instructor, songwriter, and a freelance and studio musician.  He grew up surrounded by music, spending many hours around his father's bands and extensive record collection. From an early age he attended rehearsals, gigs, and even on a few tours with his dad and his bands. As a private instructor and freelance musician for eight years, Parker runs a studio of thirty students. Parker has performed with jazz musicians Jeff Hamilton, Ronnie Bedford, Jack Walrath, and Nick Mancini. As a studio musician, he has recorded as a bassist and guitarist on over twenty albums, working almost primarily with Base Camp Studio in Bozeman, MT. In 2017, Parker released his first solo album, We Were Young, a work exclusively comprised of his original songs.
CRAIG HALL
(Guitar, Ensembles)
Montanan Craig Hall is a jazz guitarist and acoustic bassist who has carved out an existence as the definitive sideman of the upper mountain states. He has played in recent years in over 30 states and on four continents with a diverse array of groups, from The Montana Mandolin Society to Eden Atwood groups, the Jeni Fleming Trio and others. Closer to home he gigs with Michael Myers, Bob Britten, John Alexander, Kristin Korb, The String Jumpers, festival headliners, good singers, bad singers, in between sax players…. hardware store owners …  hoodlums …and teaches youngsters, mostly classical guitar, and high school students, mostly jazz. With Ann Tappan he co-leads the group Springhill, with whom he has toured in Eastern Europe three times, playing progressive modern jazz drawing on rock and folk influences.  In recent years he has played with Lee Konitz, Azar Lawrence, Benito Gonzalez, Bob Dorough, Grace Kelly, Joey Calderazo, Camilla Meza, Ryan Keberle, Vanessa Williams and many others. He has appeared on over 70 CD's. Currently, when not side manning, he is angling toward recording self-lead jazz projects. Turn-ons include the third mode of the Melodic Minor scale and thin, quiet ethereal distant atonal background noises. He climbs ice, rock and mountains, all quite slowly and poorly but with stunning enthusiasm.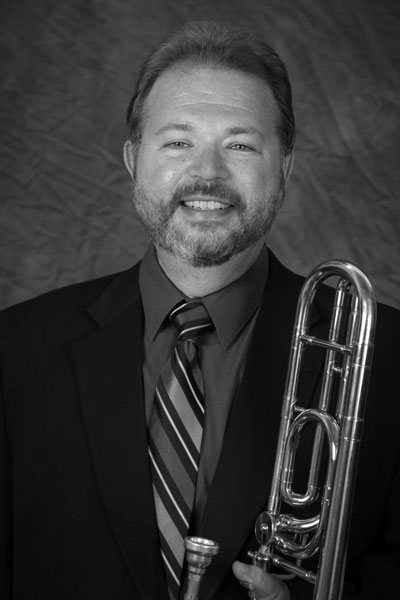 ERIC RICHARDS
(Camp Director, Ensembles, Trombone, Composition/Arranging)
www.ericrichards.com
Dr. Eric Richards serves as the Director of Bands and Jazz Studies at Sheridan College where he serves as Music Director of the Sheridan Wind Ensemble, Jazz Ensemble, Jazztet, teaches applied brass, composition, History of Jazz, and leads program initiatives in recruiting, outreach, and curriculum development.
Eric's work as a composer/arranger, trombonist, conductor, and educational clinician has heard worldwide in performance by professional and academic ensembles in major concert venues across the United States, Europe, Asia and India. He has conducted the Connecticut, Florida, Kansas, North Dakota, South Dakota, and Wyoming All State High School Jazz Ensembles. From 2008 – 2015, he served as tenured Associate Professor of Composition and Jazz Studies in the Glenn Korff School of Music at the University of Nebraska-Lincoln. Dr. Richards served as Composer/Arranger with The United States Army Field Band from 1984-2004 and honorably retired at the rank of Master Sergeant (E-8).