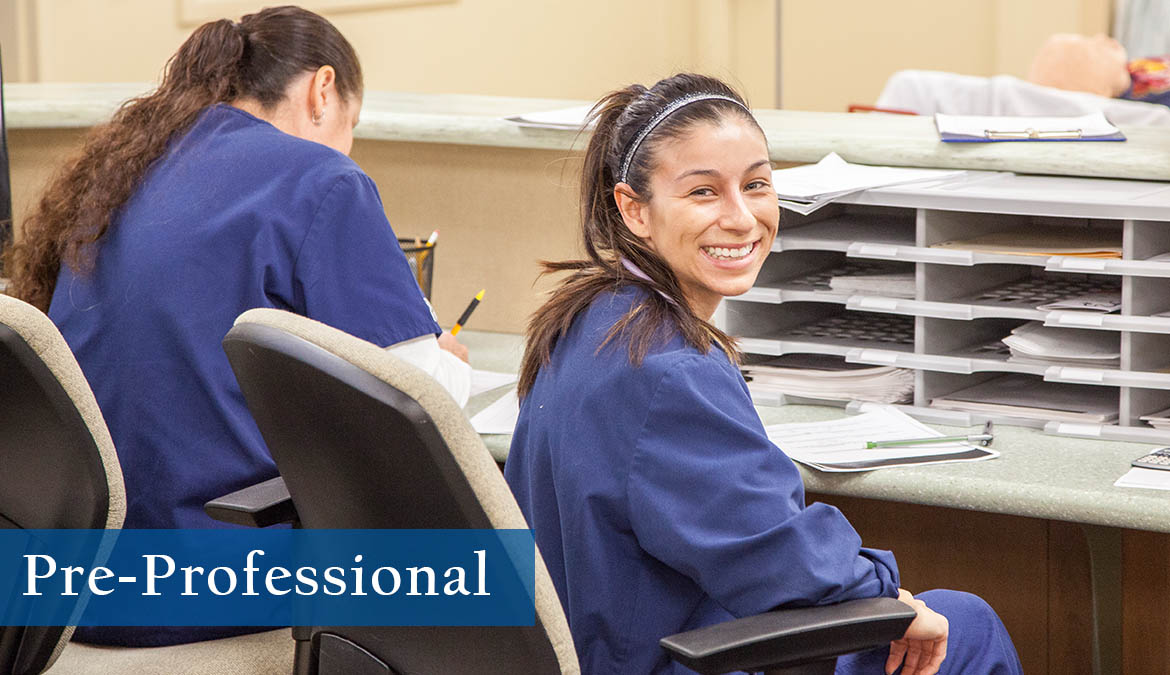 Pre-Professional Degree
From doctors to physical therapist, pharmacists to optometrists, many professionals in the health care industry start their journeys in Pre-Professional undergraduate programs. Northern Wyoming Community College District (NWCCD) offers a comprehensive Pre-Professional program which will help you prepare for further study and specialization in an area of the medical sciences. Whether you are interested in becoming a doctor, pharmacist, optometrist, physical therapist or veterinarian, NWCCD's Pre-Professional degree will help you get your academic journey off to a great start.
The Pre-Professional program is designed to provide you with a background in biological and physical sciences and to prepare you for upper-level courses in your specialty of choice. As a student at NWCCD, you will be able to specialize your curriculum in areas like Pre-Medical, Pre-Optometry, Pre-Pharmacy, Pre-Occupational Therapy, Pre-Dentistry and Pre-Physical Therapy.
NWCCD's dedicated faculty will guide you through courses relevant to your interests, including General Biology, Organic Chemistry, Physics, Human Anatomy and Physiology, Developmental Psychology, Calculus, Microbiology and more.
Why NWCCD?
With a Pre-Professional degree you can enter the medical field as an assistant or lab technician.
You will have the option to pick your courses to prepare you to transfer into a Bachelor's degree program.
NWCCD Pre-Professional students graduate and continue their education in Bachelor's degree programs at colleges and universities across the region and country in preparation to apply to professional schools, including medical school and pharmacy school.
Industry Outlook
Medical sciences and health care professionals are expanding rapidly and growing in sophistication. With complex research and demands stemming from a growing global population, jobs and career opportunities in the professional medical science fields are increasing across the region and nation. The U.S. Bureau of Labor Statistics predicts that by 2026 over 91,400 new jobs will be added to the field of physicians and surgeons, an increase of 13%. More than 67,100 jobs will be added to the field of physical therapists, an increase of over 28%.
Faculty and Community
Our NWCCD Pre-Professional faculty offer individualized instruction in small lecture and laboratory classes using modern scientific instrumentation. We encourage interaction and research, and challenge students with real-world problems.
NWCCD is part of the Idea Network for Biomedical Research Excellence (INBRE) grant program from the University of Wyoming that provides support for undergraduate research in the biomedical sciences. This enables you to engage in faculty-mentored research and facilitates access to UW faculty and resources.
As a student, you will have the opportunity to engage in original undergraduate research and present that research at the regional and national levels, including the University of Wyoming Undergraduate Research Day and the National Science Foundation's Community College Innovation Challenge. This will help set you apart when applying for professional programs, like medical school.
Careers and Opportunities
Pre-Professional program students at NWCCD have the opportunity to tailor their courses and curriculum, choosing from Pre-Pharmacy, Pre-Optometry, Pre-Dentistry, Pre-Medical, Pre-Physical Therapy and Pre-Occupational Therapy. Earning NWCCD's Pre-Professional degree will help you continue your education to pursue your professional goals. A Pre-Professional degree can lead to you higher education and a career like:
Doctor
Physician
Surgeon
Pharmacist
Optometrist
Physical Therapist
Veterinarian
Dentist
Occupational Therapist