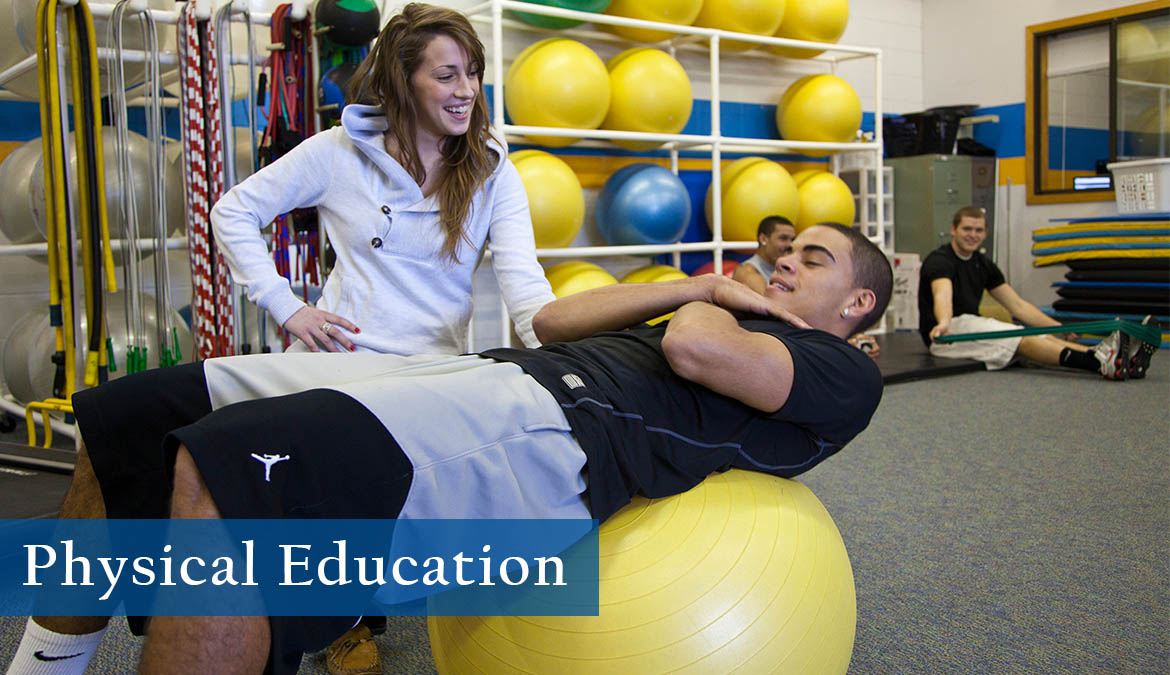 Physical Education
From coaches to teachers in elementary and secondary schools, a degree in physical education can lead to jobs in a number of fields related to health and human performance. Physical education graduates play an important role in helping maintain and improve the overall health of people across our nation. Sheridan College's Physical Education program will give you the broad knowledge of the human body, health and human performance to pursue a Bachelor's degree in a related field.
Sheridan College's Associate of Science degree in Physical Education is designed to prepare you to meet the academic standards leading to a Bachelor's degree at a four-year college or university. As a student at Sheridan College, you will study concepts of human anatomy and physiology, the foundations of physical education as a professional field of study, as well as basic principles of human and sports nutrition.
Sheridan College's Physical Education faculty are enthusiastic and knowledgeable. They will guide you through courses like Principles of Nutrition, Educational Psychology, Human Anatomy and Physiology, Care and Prevention of Athletic Injuries, and more.
Why Sheridan College?
Experience hands-on learning opportunities in professional settings when you observe and interview professionals in the field and practice lesson planning and execution.
Our Sheridan College graduates also transfer to a four-year university, including the University of Wyoming, to pursue the last two years of their degree and complete student teaching requirements.
As a Physical Education student, you also have the option of simultaneously completing an Athletic Coaching Certificate.
Industry Outlook
Physical education encompasses an array of jobs and careers in the health and human performance field. With the growing popularity of active and healthy lifestyles, and physical education remaining an important part of K-12 education, new opportunities are available across the industry and related fields. The U.S. Bureau of Labor Statistics predicts that from 2016-2026 nearly 31,100 jobs will be added to the personal fitness trainer field, an increase of 10%. Additionally the Bureau predicts steady growth for high school teacher, elementary school teacher, athletic coach and scout, massage therapist, chiropractor, and more.
Faculty and Community
Sheridan College's faculty are knowledgeable, enthusiastic, approachable and dedicated to your success. They will guide you through the principles of Physical Education, ensuring you transfer into a Bachelor's degree program with the confidence and knowledge to thrive.
Sheridan College offers small class sizes and more time with instructors, giving you an excellent learning environment. Our curriculum focuses on the principles of lifelong and functional fitness and articulates with the University of Wyoming to help you transfer.
Careers and Opportunities
Physical education backgrounds can lead to numerous job opportunities. What can you do with a degree in Physical Education? Earning Sheridan College's highly respected Associate of Science degree can lead you to higher education and job opportunities like:
Athletic Coach
Physical Education Teacher
Physical Therapist
Athletic Trainer
Dance Educator
Exercise Science
Sports Medicine
Sports Management
Health Educator
Occupational Therapist
Chiropractor
Recreational Worker
High School Teacher
Athletic Scout
Personal Trainer
Fitness Specialist