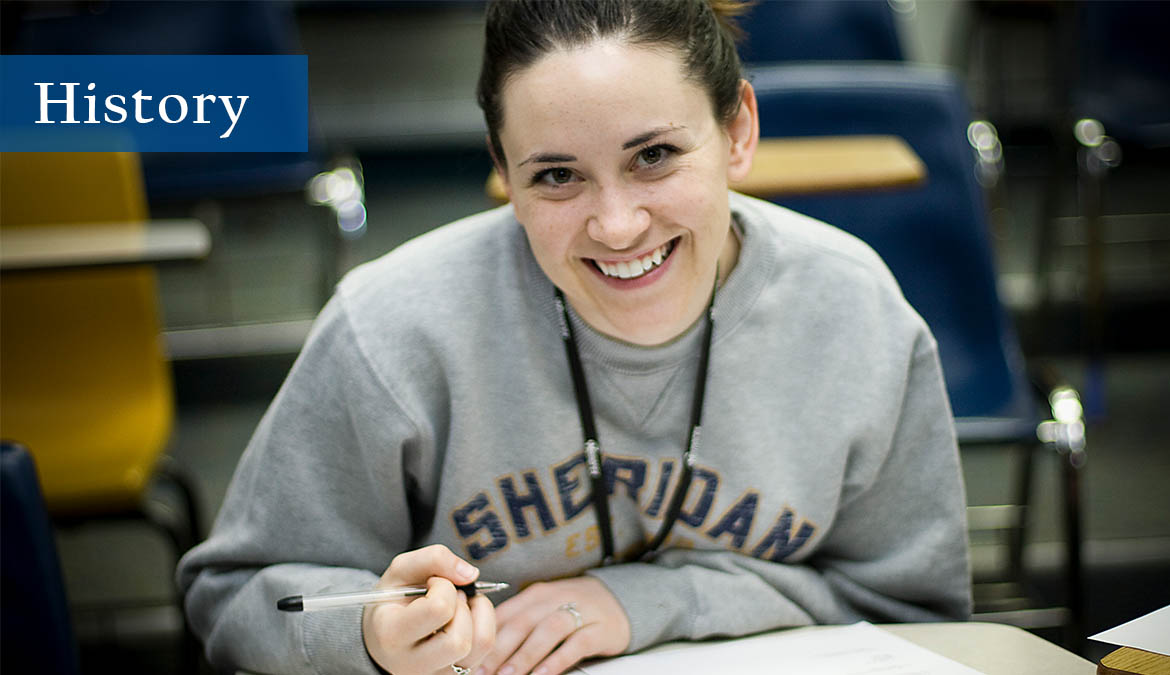 History Degree
From landscape-changing wars to major events, history has defined our past and shaped our present. The study of historical events and human affairs can be a rewarding college degree for many students. Northern Wyoming Community College District's (NWCCD) History degree program allows you to pick and study your interests with a variety of elective courses available in History and Social Studies. Earning a History degree can jumpstart your career in a number of fields, from teaching to law.
Our NWCCD Associate of Arts degree in History will take you through historical events, teaching you to think critical and logically, assess problems and render informed decisions. From History of the West and Wyoming to World Civilization, Music History and Constitutional Law, you will have the opportunity to tailor your college experience to follow your passions.
Students interested in pursuing an advanced History degree may find career opportunities in teaching, public history, museum work, management, grant writing, government service, financial research services and graduate studies.
Why NWCCD?
Pick your classes and study your interests with a variety of elective courses available in History and Social Studies
This program prepares you to transfer to colleges and universities regionally or nationally to pursue Bachelor's degrees in History or a related field of your choice.
Industry Outlook
Historians and history buffs have a passion to study how civilizations changed over time. They use research skills, writing abilities and critical thinking to study the past and analyze the present. These skills are highly valued in numerous job fields, including the legal profession, museum curation, politics, education, communications, media and more. Many students earn degrees in History to become history and social studies teachers. The U.S. Bureau of Labor Statistics predicts nearly 76,800 high school teacher jobs will be need to filled from 2016-2026. Job growth is also predicted for the fields of archivists, curators and museum workers, as well as historians.
Faculty and Community
Our dedicated faculty at NWCCD will help you learn significant historical events while building key skills, including critical thinking, writing and reasoning. Our faculty will work with you to identify your academic and career goals and passions. Whether law school is in your future or teaching history to elementary or high school students, our faculty are committed to helping you navigate your path to success.
NWCCD has strong academic relationships with a variety of colleges and universities across the region. Earning an Associate degree in History from NWCCD will allow you to transfer as a junior to colleges nationwide, including the University of Wyoming, and pursue a Bachelor's degree in a related field.
Careers and Opportunities
History students may study specific regions, eras, events or wars, using their expert knowledge as teachers, professors, guest lecturers, scholars and writers. Earning a degree in History from NWCCD can help you launch your career. Whether you are interested in attending law school, teaching high school history or something in between, NWCCD's History program can help you transfer into Bachelor's degree programs to pursue higher education and join a career field like:
History Teacher
Lawyer
Librarian
Writer
Historian
Museum Curator
Political Scientist
Communications
Marketing
Archivist
Research
Social Studies Teacher
Politician
Reporter