Wyoming Works
Wyoming Works grants can help you pay for training that leads to a good job. Below please find the current list of eligible programs.
2. Complete your FAFSA
Fill out the FAFSA form.
For Fall 2020, Spring 2021 & Summer 2021 courses fill out 2020-2021 FAFSA.
Sheridan College and Gillette College school code is 003930.
4. Register for Classes
Call the Advising office to make your appointment.
Sheridan College – 307-675-0100
Gillette College – 307-675-6011
5. Call Financial Aid
For any questions about award eligibility please call the Financial Aid office.
Sheridan College – 307-675-0200
Gillette College – 307-681-6042
Available Wyoming Works Programs
Sheridan College Programs
Gillette College Programs
* Programs are also available online.
Note: Additional programs, which will also qualify for Wyoming Works grants, are under development. Please check back or inquire with the Admissions Office regarding new programs.
Eligibility Requirements
Must complete the FAFSA form, showing financial need
Must be a U.S. citizen
Must be a Wyoming resident
As required, must be registered with the selective service
Must maintain satisfactory academic progress in the program
Must not be currently receiving or eligible to receive the Hathaway scholarship
Must not be currently in default on a federal Tile IV education loan
Must not owe a refund under a federal Title IV student financial aid program or a subsequently enacted similar federal student financial aid program, or a student financial aid program administered through the State of Wyoming.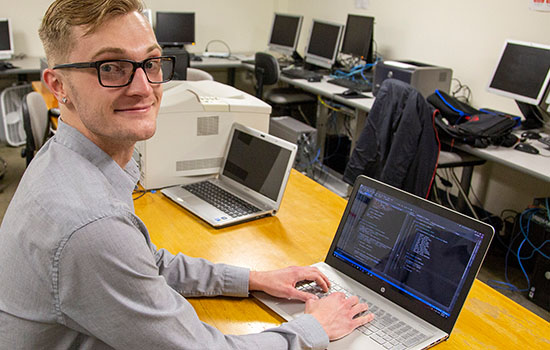 Award Amounts
Award amounts vary, based on the total cost per program. You may be eligible for up to $1,680 per semester for 6 semesters.
For complete financial aid rules and process, see the Wyoming Works Financial Aid Handbook.
About Wyoming Works
The Wyoming Works Program began as Senate File 122 (SF122) in Wyoming's 65th Legislature. After passing both the House and Senate in February 2019, it was signed by Governor Gordon as Senate Enrolled Act 78 (SEA78). The legislation includes a $5 million appropriation; $3 million of which will used for individual student grants, and the balance will support program development.  Allocation details will be managed by the Wyoming Community College Commission, as these monies will be distributed among all seven Wyoming community colleges. Annual grant availability is subject to the Wyoming Legislature's annual appropriations process and our individual college allocation.