FOR IMMEDIATE RELEASE: November 2, 2017
Contact: Wendy Smith, Director of Marketing and Public Information, 307-675-0412, wsmith@sheridan.edu or Claire Barnes, Writer/Editor, 307-675-0416, cbarnes@sheridan.edu
SHERIDAN COLLEGE DENTAL HYGIENE PROGRAM BREEZES THROUGH REACCREDITATION
Sheridan College's Associate of Applied Science in Dental Hygiene program has received full reaccreditation by the Commission on Dental Accreditation through 2024. The program is required to complete the reaccreditation process every seven years.
According to an official letter from the commission, "The program in dental hygiene is accredited by the Commission on Dental Accreditation and has been granted the accreditation status of "approval without reporting requirements". The Commission is a specialized accrediting body recognized by the United States Department of Education. The Commission on Dental Accreditation can be contacted at (312) 440-4653 or at 211 East Chicago Avenue, Chicago, IL 60611. The Commission's web address is: http://www.ada.org/en/coda."
The commission is the national programmatic accrediting agency for dental and dental-related education programs at the post-secondary level. It employs a collaborative peer review accreditation process to evaluate the quality of more than 1,450 dental and dental-related education programs nationwide.
"Reaccreditation is a rigorous process that ensures our program has a relevant, comprehensive curriculum, provided by qualified individuals, in an effective facility," said Janine Sasse-Englert, Director of Dental Hygiene. "It is a comprehensive look at how effectively our program prepares professionals to enter the workforce after graduation."
The dental hygiene program at Sheridan College was started in 1969 and graduated its first class in 1971. It has since become one of the leading programs in the Rocky Mountain Region. According to Sasse-Englert, program graduates are in high demand in the region, and earn between $55,000 and $70,000 as full-time dental hygienists.
According to the Bureau of Labor Statistics, employment of dental hygienists is projected to grow 20 percent from 2016 to 2026, much faster than the average for all occupations. The demand for dental services will increase as the population ages and research continues to link oral health to overall health.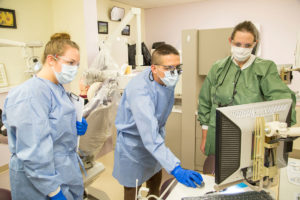 Photo: Chris Aguirre exposes digital radiographs (x-rays) while Sara Beres, his instructor, assists, and first year student Bethany McVay, observes. Photo courtesy of Dennis Jacobs, Sheridan College Photographer.